"In framing its collection of essays in terms of sustainability, The Sustainable Legacy of Agnès Varda offers a timely intervention in feminist criticism in visual studies. Varda's work lends itself beautifully to these eco-critical analyses, which collectively sustain meticulous attention to Varda's elaboration of embodiment, space, and place across her oeuvre." – Sharon Willis, University of Rochester, USA

"Inquisitive moving-image artist par excellence, Agnès Varda receives here an expansive and multifaceted treatment, one that matches the range and generosity of her own work. These essays revise and open out our understanding of a cinema that both depicts and embodies sustenance." – Girish Shambu, Canisius College, USA

"The Sustainable Legacy of Agnès Varda constitutes a magnificent critical tribute to the work of a filmmaker who turned cinema into an art of encountering. Arguing that her legacy extends beyond her filmography, through an ethical and political vision of art worth examining, the contributors of this book remained faithful to the memory of a woman and an artist committed to her time." – Luc Vancheri, Lumière University Lyon 2, France
A valuable and highly readable set of essays tracing the intimate relationship between the symbolic economy of literary prestige and the business of cinematic adaptation. Extending from Hollywood's reliance on Nobel and Pulitzer winners in the early years of the talkies to the role of the Man Booker award in recently propelling Hilary Mantel to the position of multi-media high cultural brand name, the individual chapters are strongly argued and the collection as a whole is notable for the clarity and coherence of its design.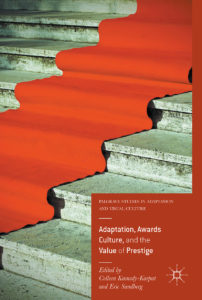 James English, University of Pennsylvania, author of The Economy of Prestige: Prizes, Awards, and the Circulation of Cultural Value
The question of value has been central to adaptation studies from the start. This impeccably edited and provocative collection thankfully ignores debates about textual fidelity and authorship, turning instead to questions of cultural capital and prestige in the circulation of adaptations. It offers insightful and highly topical discussions of an impressive range of topics, while maintaining a clear focus on the social, cultural, and textual practices that privilege certain types of adaptation. An invaluable collection of truly outstanding scholarship.
Dan Hassler-Forest, Utrecht University, author of The Politics of Adaptation: Media Convergence and Ideology
A timely and wide-ranging investigation into the slippery nature of cultural prestige: who determines what it is; why it matters; and how it circulates and multiplies across media forms. As such, this volume constitutes an important addition to adaptation studies.
Simone Murray, Monash University, author of The Adaptation Industry
Original, beautifully written, and ground-breaking in its designation of an entirely new field of study, […this book] will become a standard against which future work in this field will be measured.
Sandy Flitterman-Lewis, Rutgers University
[Rogues] moves well outside the familiar corpus of films to discuss neglected works and less studied performers. She convincingly demonstrates that, while a colonial setting may indeed place limits on what a film can say or show, 'colonial' cinema also shares features with the exotic and, to that extent, needs studying in terms of the pleasures it offers rather than its uneven propaganda value. […] The book is welcome for its willingness to open up new ground and challenge dubious critical orthodoxies.
Martin O'Shaughnessy, Nottingham Trent University (French Studies)
Illuminating and thoroughly researched, […Rogues is] a welcome addition to a hitherto underexplored section of the 1930s French film canon.
Ben McCann, University of Adelaide (Modern and Contemporary France)
Kennedy-Karpat accomplit un véritable tour de force. Son étude en six chapitres foisonne de photos et comporte en annexe une filmographie réunissant soixante-huit titres. L'auteure a le mérite d'ouvrir une nouvelle brèche socioculturelle au sein d'une filmographie familière à l'intersection de l'histoire et du septième art.
Anne Cirella-Urrutia, Huston-Tillotson University (French Review)