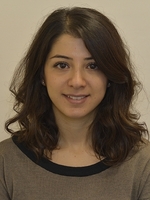 Eda Bektas
PhD Candidate in Political Science, Bilkent University
Research Interests
Comparative analysis of legislative institutions, representation, accountability, responsiveness, Turkish politics.
---
Education
PhD Candidate in Political Science, Bilkent University, Ankara (2011-present)
Visiting Research Student at the European Institute, London School of Economics, London (2014-2015)
M.A. in International Relations, Koç University, Istanbul (2008-2010)
Undergraduate in International Relations, Bilkent University, Ankara (2004-2008)
---
Research Papers
Bektas, Eda, and Esra Issever Ekinci. 2017. "Who Represents Women in Turkey? An Analysis of Gender Difference in Private Bill Sponsorship in the 2011-2015 Turkish Parliament." Politics&Gender, Revise and Resubmit.
---
Related Work Experience
Teaching Assistant, Political Science, Bilkent University, Ankara (2013-present)
Comparative Politics I (Undergraduate)
Comparative Politics II (Undergraduate)
Fundamentals of Social Research Design (Graduate)
Fundamentals of Social Research (Undergraduate)
Negotiation and Mediation in Politics (Undergraduate)
Conflict, Violence, and Peace (Undergraduate and Graduate)
Research Assistant in Politics Department, SETA Foundation, Ankara (2010-2011)
Research and Teaching Assistant, International Relations, Koc University, Istanbul (2008-2010)
---
Achievements and Scholarships
Jean Monnet Scholarship for PhD Research, 2014-2015
Bilkent University PhD Scholarship, 2011-2017
TUBITAK PhD Scholarship, 2011-2016
TUBITAK MA Scholarship, 2009-2010
Koç University MA Assistant Scholarship, 2008-2009
Bilkent University, Undergraduate Full Scholarship, 2004-2008
TEV Merit Scholarship, 1999-2004
---
Skills and Qualifications
Turkish (Native), English (Fluent), Spanish (Basic)
MS Office, SPSS, STATA
Quantitative and Qualitative Research Analysis